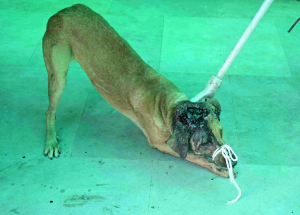 "While there's a well-known saying in our line of work that cautions about being careful around dogs after being bitten by one, we recently experienced a lesson that changed our beliefs.
When Pritam arrived at our shelter, he had been subjected to cruelty from a person in his neighborhood. The man, unhappy with something in his life, used Pritam as a target to release his frustration.
Pritam was struck on the head with a bat, resulting in a wound that, left untreated, became infested with hundreds of maggots feeding on his flesh when he was rescued. Despite the traumatic experience, our team expected Pritam to be a challenging dog to handle. Surprisingly, he cooperated well during his rescue. Yet, we were certain he might display aggression during his treatment.
However, Pritam proved us wrong once again. He patiently waited for our doctors to attend to his wound. Within a week, we gained enough confidence to not handle him using a pole and rope, standard equipment for dealing with aggressive animals.
As two weeks passed, the doctors began treating Pritam single-handedly. His recovery took a month to complete, leaving us with an important question at the end.
"If a dog can trust humans even after being attacked by one, why, after a dog's attack, would we view every dog as a criminal?"